For a free copy of our latest brochure please use the download button ->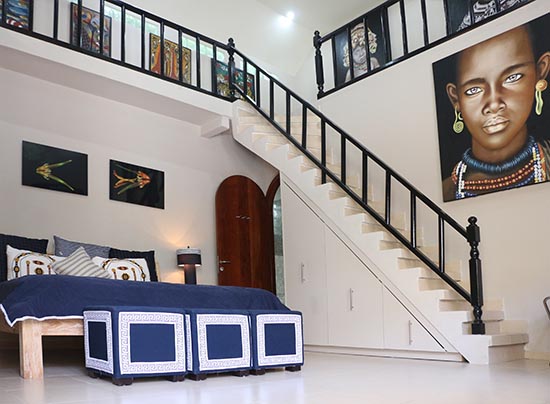 Our luxury loft suite is set at the back of the property overlooking the garden and its' patio area
This is a large 50 sq metre suite, next door to Princess Suite and our private Gym
There is a large desk here and a gallery area above the bedroom which displays a lot of African and indigenous art work, cable TV and DVD facilities, flat screen TV, tea and coffee making facilities, ceiling fans and air conditioners. It also has your own water cooler for drinking water, with hot and cold water on tap. Crockery and cutlery, wine and beer glasses and of course, bottle openers and napkins and even wine stoppers.
There's lots of hanging cupboard space and drawers and a safe for your valuables.
The Bed in our luxury loft suite is a larger than California King Size Bed and you may have trouble finding your partner in it, but you'll have a heavenly night's sleep on the ultra comfortable mattress.
The Bedroom and living area is similar to a hotel suite in that it is one large room. The granite lined bathroom and shower has 2 separate shower heads with a hot water system that services only this suite and includes  a private outdoor shower room.
Double sinks set, under bench style, in the granite vanity give everyone their own space and the large vanity cupboards will hold all of your toiletries.
Soap, luxury shampoo and conditioner, hair dryer and plush absorbent towels and mats complete the comfort here.

Do you like what you see but would like to see more? Please take a look at our other rooms to see all of the options we have available for your stay at Villa Costa Plenty.
Please use the contact form to get in touch with any questions you may have. We would love to hear from you.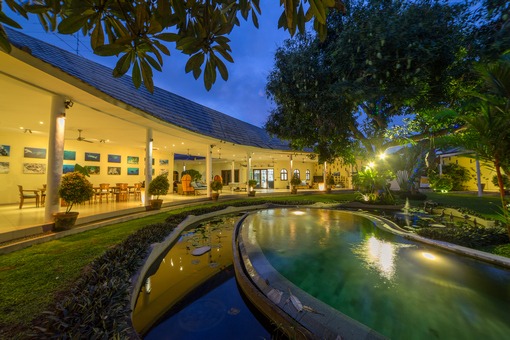 Villa Costa Plenty
Jalan Bajang Sari #7
Sanur
Denpasar
80228
Bali
Indonesia