For a free copy of our latest brochure please use the download button ->
With an on-site massage room, a gym, a pool, a pool table, areas to relax on the private terraces or in the beautiful grounds along with great food and books aplenty you may never wish to leave the villa!
If you do decide to venture out you'll find that Sanur town and beach are just a short walk away. Alternatively we can help you to book day excursions to visit and explore the other attractions the amazing island of Bali has to offer.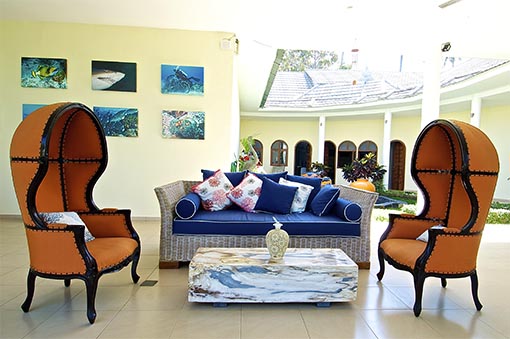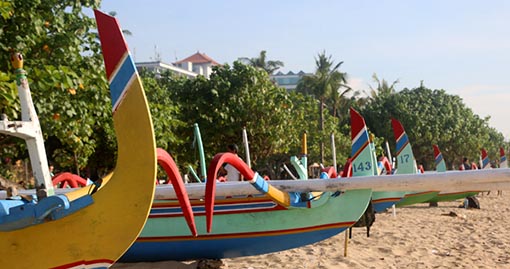 Sanur Beach is Bali's first beach resort and it has a very relaxed coastal vibe.
Located on the eastern side of the island's harbour entry, Sanur beach it is opposite to Kuta, both in characteristics and nuances.
The former fishing village retains most of its charm and continues to attract repeat visitors.
Hire a sun lounger on the beach and just laze the day away or get a massage whilst listening to wind in the trees and the surf in the background.
Or simply take a walk along the beachfront walkway. It's about 10 kilometres long and there are restaurants, bars, warungs and shops all along the coastline.
DIVING – Indo diving is the island's premier dive operator and can offer you a single day experience dive or a course to get your PADI. Indo Dive will pick you up and drop you off.
JET SKI – anywhere along the northern and central area
KITE SURFING – on the beach front near Prama Hotel, Sanur is the Kite Surfing School and you can hire equipment or take lessons.
SURFING – Rip Curl School of surf is part of the Kite Surfing Office situated on the beach front near Prama Hotel, Sanur
SURFING IN SERANGAN– perfect for beginners and close to Sanur. You can just go to the surf beach at high tide and ask around for instruction or call Bali Surf Tours on +62 81 2381 5180 or any number of companies on the internet.
BICYCLE TOUR OR HIRE – Bicycles can be hired anywhere in Jl Danau Tamblingan. Sunrise Bicycle Tours around Sanur—pick up from Villa Costa Plenty and cycle to the beach for sunrise then to Sindhu morning markets for breakfast then off to Mertasari Temple and back to the beach for a light snack and back to Villa Costa Plenty.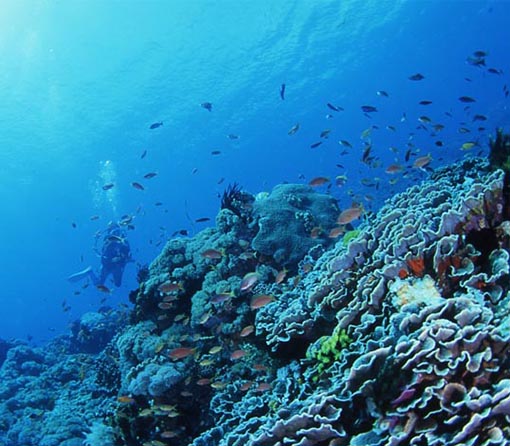 Sanur – Even more to do….
SANUR FESTIVAL- Set in parkland just a 4 minute walk from Villa Costa Plenty Sanur festival runs for 5 days in August. There are bars, food stalls, shops and activities all set up in the park with constant activity on the stage. Entertainment includes Balinese Dance to Jazz bands & heavy rock. It's a fabulous experience.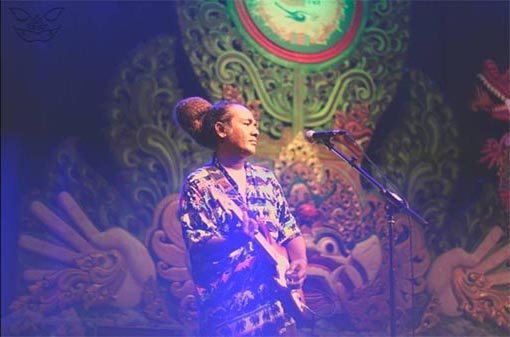 KITE FESTIVAL—Usually in September depending on the winds coming from the east. Free and incredible. Huge kites are set permanently in the sky and there are kite fights, competitions, different shapes and sizes. A really fun time and just on the beach front in Sanur.

YOGA – Power of Now Oasis – Yoga by The Sea. This famous yoga school is in a purpose built Shala and has classes from early morning to late at night. At Mertasari Beach next to Mercure Hotel. We can arrange your class or you can call them direct on +62 878 6153 4535.
JEWELLERY MAKING CLASSES – Vanessa ( Ness & Nini) and her partner run this business, quite close to villa Costa Plenty. They let you make a silver bracelet or ring or necklace and you'll always have a fun memory of your time in Bali. Sanur Silver Jewellery Studio info@sanurjewellerystudio.com.
COOKING CLASSES – the wonderful Chef Mudana will arrange a pick up from Villa Costa Plenty to his restaurant in Sanur. Choose to go to the morning markets with him, purchase your produce and come back to cook a 7 course meal for lunch or do an afternoon and stay for dinner.
Sanur Cycle Tours; There is much more to Sanur Village than just the tourist strip!  Take a morning or afternoon cycle tour and explore along Sanur's famous 7 km beach as well as sites such as the abandoned ghost town of "Taman Festival".
MASSAGES AND BEAUTY TREATMENTS are available everywhere in Bali and Sanur. Just walk down the road or beach and there they are. Villa Costa Plenty has a private massage room available for use and we can call in a therapist but she requires 24 hours notice to organise her schedule.
Beyond Sanur – Exploring and activities in Bali
Adventure beyond Sanur to enjoy some of the stunning natural wonders in Bali, or immerse yourself in some of the island's cultural heritage, Here are a few suggestions of where to go on an amazing trip out. At Villa Costa Plenty we can arrange a driver for you for the day so you can spread your wings and explore.
A majestic rock formation lays the foundation to the popular pilgrimage temple of Pura Tanah Lot. One of the seven temples that form a ring in the southwest of Bali in Balinese mythology. Visit during low tide so that you can "walk across the water" to the temple for the full experience.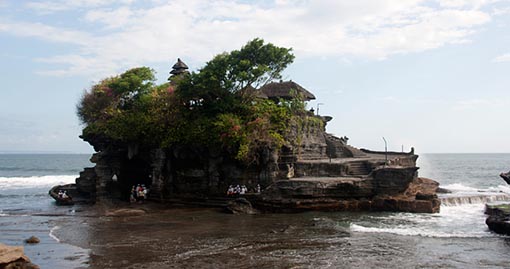 Perched 70 meters above the Indian ocean is Uluwatu Temple. The temple is a majestic structure, constructed and expanded many times since the 11th Century. From higher ground nearby you will be rewarded with breathtaking views of sunset over the temple and its surroundings.
Pura Ulun Danu Bratan is another must visit temple in Bali, serenely resting at the edge of Lake Bratan. A beautifully structured temple which is even more impressive with double the beauty due to its reflection on the clear lake.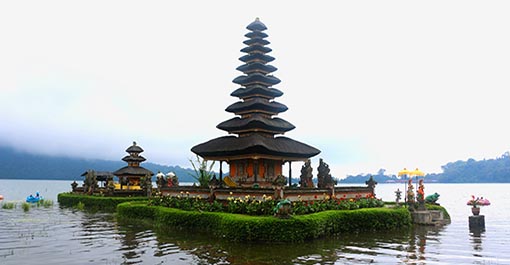 Drive up Jalan Raya Andong through the retail villages and stop and purchase items you may not see elsewhere. Have lunch at the many restaurants overlooking the rice fields or take a walk around the fields themselves.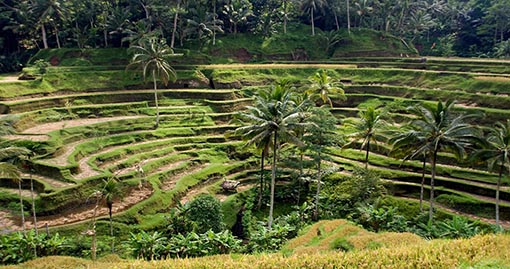 For the more activity inclined we also highly recommend the following companies.
Bali Wake Park is the first and only cable wake park in Bali. Bali Wake Park is now home to Asia's largest AQUA PARK – a new addition that equipped with all kinds of water attractions and has many facilities to make your holiday  exciting until the last moment.
Adventure tours – Bali's critically acclaimed and longest-established adventure tour operator. Elephant Park & Lodge, Jungle Buggies, White Water Rafting, River Kayaking, Mountain Cycling, Tropical Trekking, and Helicopter Tours.
NLP TRAINING with Insights NLP. Learn some really useful soft skills to help motivate yourself to greater success. NLP contains a variety of insights and tools that will give you what you need to help get yourself motivated and achieve the results you want in life.
Bali Discovery – the one-stop website for everything you need for a Bali holiday. Award-winning news on Bali tourism, special offers on hotels and villas, island tours, transportation and practical tips and advice from the people who know Bali best.
Please use the contact form to get in touch with any questions you may have. We would love to hear from you.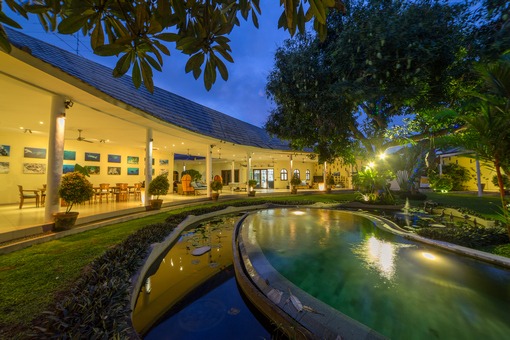 Villa Costa Plenty
Jalan Bajang Sari #7
Sanur
Denpasar
80228
Bali
Indonesia