For a free copy of our latest brochure please use the download button ->
Villa Costa Plenty
Relaxing accommodation in the heart of bustling Sanur
Relaxing accommodation in the heart of bustling Sanur
Villa Costa Plenty offers a beautiful environment in which to relax and unwind. Close to restaurants, shops and the 6 km long beach in Sanur. Villa Costa Plenty has everything you need to spend quality vacation time on the magical Island of the Gods.
We have a number of rooms on offer, all with private outdoor sitting space and all overlooking the beautiful tropical garden.
Read on to find out more about your perfect Bali getaway accommodation.
All of our room packages include a fantastic homemade English breakfast.
You can find out more about the inclusions on our rooms page or more about each room from the links below.
Raja Suite
Raja (the King) Suite is truly gorgeous, with big comfy lounges, and a private patio with daybed to laze your days away.In addition to the King Size bed in the bedroom we can accommodate an additional 2 King Single beds in the living area if needed. Set in the garden overlooking the pool this room has a quiet & tranquil setting
Ratu Suite
Ratu (The Queen) Suite is just perfect for a couple wanting relaxation and privacy. A Super sized California King Size bed will have you searching for your partner. Relax on the fabulous lounges in the suite living area or on your own private patio. The luxury granite bathroom comes with a rain shower and double sinks.
Loft Suite
The Loft Suite is a spacious room which boasts an upstairs gallery. The Super California King Size bed is downstairs, so no stairs to climb unless you want to. Lots of storage, a desk and of course luxury bed linen and cuddly towels. Shower indoor in the granite lined ensuite or outdoors to give you that true Bali feel.. Sooo Comfortable
Princess Suite
Romance, Romance, Romance in this suite. The queen size four poster bed is set up with luxury linen and pillows. Covered in Versace fabric the daybed is a great place to read your book or can be set up to accommodate an extra guest. Shower in the granite ensuite or in the outdoor shower to complete your Bali experience.
What our guests say about us
After a 3 week long round trip on Bali we arrived at Villa Costa Plenty. The owners Sharyn & Terry welcomed us into their home and provided first-class service, both... read more in terms of location and service. The hotel is absolutely stunning and even has a copper pool meaning no chlorine when you swim. Service was top notch and both Terry and Sharyn went the extra mile to make sure we had a pleasant stay.

We would recommend this hotel to any of our friends. 10/10

//Andreas & Mira

581andreaso

1/08/2020

My husband and I spent 8 fabulous nights at Villa Costa Plenty and seriously regretted not booking for longer. This is a truly stunning property and is a credit to... read more hosts Sharyn and Terry. Our Villa was beautifully decorated, spacious and comfortable. The bathroom is massive with a large double vanity and a rain shower. The tap water is drinkable and there is also a water cooler, pod coffee, tea, and best of all a jar of Sharyn's homemade cookies ! The Staff are lovely and always happy to do what they can for you. Breakfast includes fresh fruit, yoghurt, homemade muesli, the best banana pancakes, and a hot selection cooked to order by the lovely Dewi and Yuri. You will find yourself relaxing over breakfast chatting to other guests while admiring the lovely shaded garden or feeding the fish and turtles in the pond. The pool is a delight, crystal clear and inviting. There is plenty of space for privacy and relaxing, reading a book, dozing in the shade or watching the pretty red fireflies dancing on the flowers. Villa Costa Plenty isn't just somewhere nice to stay, it's an experience. Thank you Sharyn, Terry, Buster and Bonnie for welcoming us into your beautiful home, you'll never get rid of us now !!!
See you in September
Michelle & Steve

MDL1964

2/23/2020

We received a very warm welcome from Sharyn & Terry, the owners from the moment we arrived. The rooms are huge and very well appointed and laid out with... read more top furnishings and a large spacious bathroom. It was so good to be able to use the water direct from the tap (as they have their own water supplied from a Well) and having a water cooler and boiling hot water tap was such a nice and convenient touch. The pool is a delight, very clean and great for relaxing in on a hot afternoon! The breakfast was awesome; Sharyn's homemade granola was some of the best I have tried and the hot food cooked to order was delicious. It was also great to be able to have a beer or bottle of wine as they have a board for you to write up what you've had and then settle up at the end of your stay. Sharyn & Terry will go the extra mile to make sure you have a wonderful holiday, with recommendations on anything you are looking for and they even drove us to a local art gallery they use as we so wanted some artwork to take back home (thanks again - we will get photos over to you once framed!). We stayed 4 nights over Christmas and had a fabulous time as it's in such a quiet location but only a few minutes walk to the beach, shops and some great restaurants (just got to get across the busy main road). Would certainly recommend you don't miss out on a stay here!

NMVino

1/07/2020

A fantastic villa with wonderful garden and pool in a lush area not far from the beach area with many good restaurants. The rooms have a good combination of functionality... read more and design, are very spacious and well equipped. Last but not least, the wonderful couple Sharon and Terry and their friendly staff make this an incredibly comfortable stay. If we visit Bali again then this is an obvious choice.

suodjaod

1/13/2020

We have traveled extensively and have never stayed in a place like this. The owners, Sharyn and Terry are so warm and welcoming. As soon as you step through... read more the carved doors, you enter a beautiful, tropical oasis. Manicured lawns, beautiful fruit trees and Koi pond with turtles. The swimming pool winds around the property. The rooms are all different, spacious and beautifully decorated. The service is impeccable, the breakfast is so delicious, made fresh to order. I can see ourselves being repeat guests. I highly recommend this property, you wont be disappointed.

855reginak

12/19/2019

We stayed at Villa Costa Plenty for a week and had a fabulous time. All of the fantastic reviews are true, it really is a hidden gem. Sharyn and Terry... read more are the perfect hosts, so helpful and friendly with lots of local knowledge. We had a suite with a separate lounge which was perfect, lovely and clean with lots of beautiful decor. The pool is amazing and available 24 hours, as there are only four rooms it never feels crowded and allows you to get to know other guests. You end up feeling part of the family when you leave. All of the staff are incredibly hard working and friendly with very good English. Breakfast was freshly cooked and Sharyn's muesli is as good as everyone says. One last little shout out to their two beautiful dogs Bonnie and Buster who only add to the lovely family atmosphere of the property. Honesty bar is fab too!! We will be back next year! More

paulsMidlands

2/17/2020

My husband and I stayed for 5 weeks and loved it. Our accommodations couldn't have been better and we were fortunate to meet some wonderful people here. We swapped lots... read more of travel stories, wallowed in the pool as much as we wanted, had a fantastic driver arranged thru Sharyn for our day trips snorkeling, seeing various temples, ceremonies, waterfalls and the water palace. The staff here is top notch. The Villa is impeccably clean and they are great breakfast cooks. We enjoyed having a cappuccino or latte daily too. Fresh baked cookies are available at all times, including some gluten free ones specially made for me! Bluebird Taxi is the most reliable for evening trips into Sanur, otherwise we walked to the beach area (10 min) for supper or the ATM. Visit Sharyn's blog to find out what's what. This lady has her finger on the pulse of things to do in Bali and if she doesn't have the answer to a question, she'll "know someone who knows someone." We stayed in both The Raja Suite and The Loft while we were there.
We'll be back. We ❤️ Bali.

DayTrip212788

2/28/2020

My husband and I loved it here . A quiet oasis away from the madding rush , even though the main road is not far away . Large , clean... read more , nicely furnished rooms with a coffee pod machine and freshly baked biscuits to boot . Thoroughly enjoyed the pool , the staff were friendly and welcoming . Terry and Sharon were wonderful hosts who went above and beyond to look after us . I also loved their dogs . Thankyou so much for looking after us and making sure we had a good time .

Deidre58

3/20/2020

This was my second time staying here. Like the first time, I again had a very enjoyable and relaxing time. The four different rooms are clean and spacious.... read more The pool and common area are well maintained. The owners/hosts and their small staff are very friendly and attentive. Breakfast is included and it is quite delicious and satisfying. The location is about a 15 minute walk to the main business area and beach. The next time I happen to be in Bali, I will likely stay here again if they have availability.

BigPlanetToSee

5/25/2020
Please use the contact form to get in touch with any questions you may have. We would love to hear from you.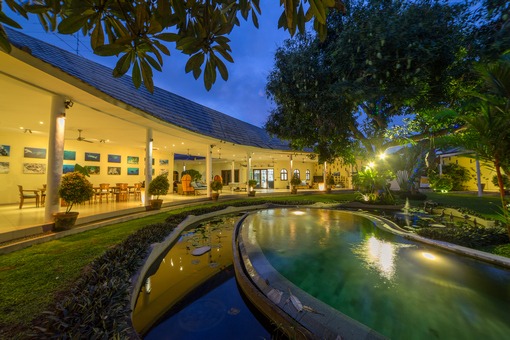 Villa Costa Plenty
Jalan Bajang Sari #7
Sanur
Denpasar
80228
Bali
Indonesia